Ian Polster's 60th Birthday
Part. I
The Rev's Surprise
---
This is Ian and Denny Seifried about 20 years ago, playing in their group The Springfield Bones. Denny had been Ian's most trusted friend for longer than that, so when he called to tell Ian that he needed him to play in the Symphony Brass Quartet for some kind of gathering late on a Saturday afternoon at Wittenberg, Ian was eager to help out.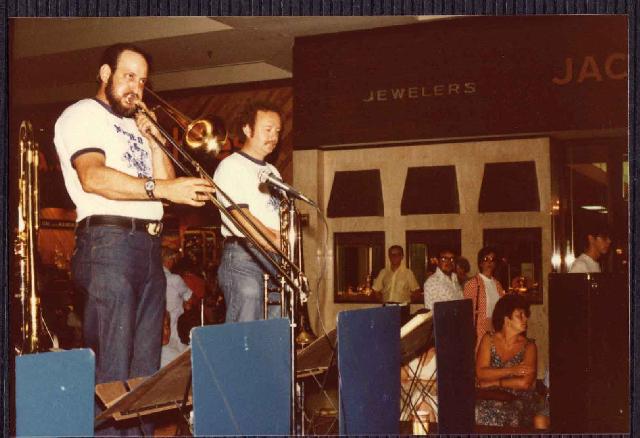 ---
Meanwhile, inside Wittenberg's Prince Davis House some kind of gathering was indeed taking place. Here, sister-in-law Sandi Polster and Violinist Cindi Krahn attack the snacks and prove that Blondes have more food while son-in-law, Eric Jolley talks to grandson, Ryan Jolley.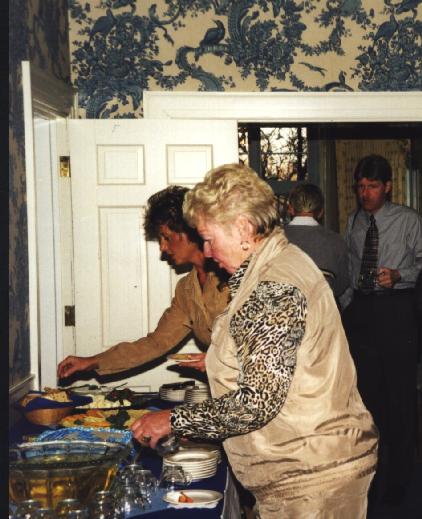 ---
Now, all of this was arranged by Ian's wife, Carol (AKA The Rev). The Rev and Denny had gotten Symphony Manager Elizabeth Long to officially confirm the booking by e-mail, and Denny arranged to give Ian a ride to "the gig."
---
Waiting in the background and enjoying some snacks are Pat Campbell greeting Leo Polster, Betty and Louis Driever talking to Johnny Mack, and Rosemarie Meyer chatting with Wes and Sharon Haines. Just as Ian's grandson, Ethan, was showing Concert Master John Smarelli to the bathroom, somebody shouted, "The Fool is coming, The Fool is coming."
---
And while Denny held the door open, in walked The Fool. Surprise! No gig today.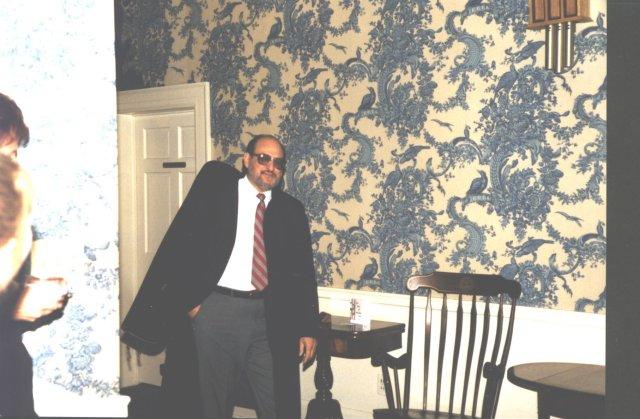 ---
Bud Arthur and Louis Driever, were supposed to be playing trumpets in the fake quartet. That's Nancy Seifried, Ian's brother, Ron, and Ian's mother, Miriam, in the background.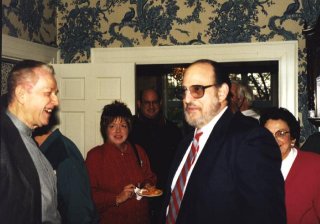 ---
Talk about close calls: Tom Busch and his wife Carol were just walking up to the door when Denny and Ian were about to cross the street. They're pictured here with Ian's Wittenberg colleague, Dr. Joyce Wendel.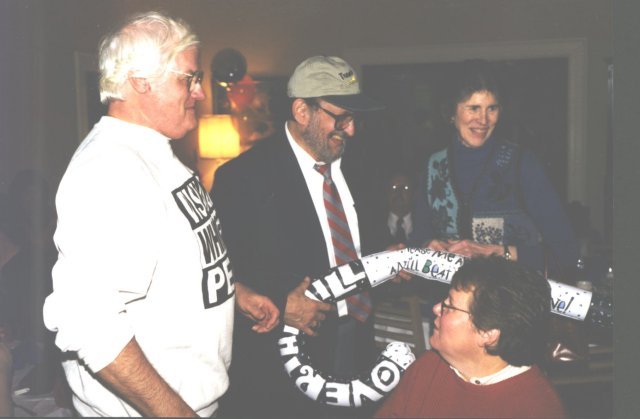 ---
Here's Ian with his band partner, Wes Haines and his wife, Sharon, and Ian's show partner (and keeper for the day), Becky Brunsman.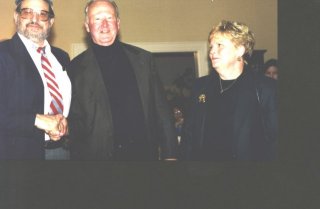 ---
Ian claims Miriam Polster could find a camera in a haystack, so here is a picture of her with his daughter, Laura.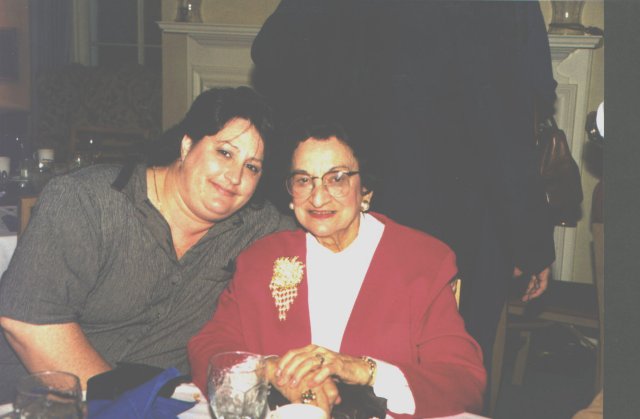 ---
As a prelude to the official festivities, Ian had to spit on the cake, and pose for a formal portrait with his grand daughters Devon and Leah.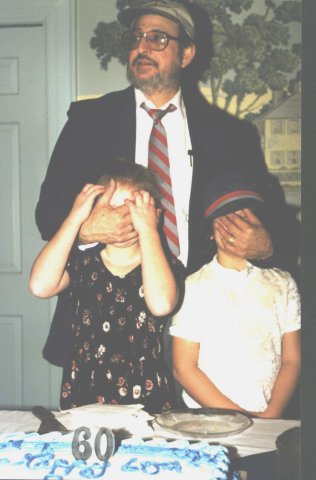 ---
They cut the cake.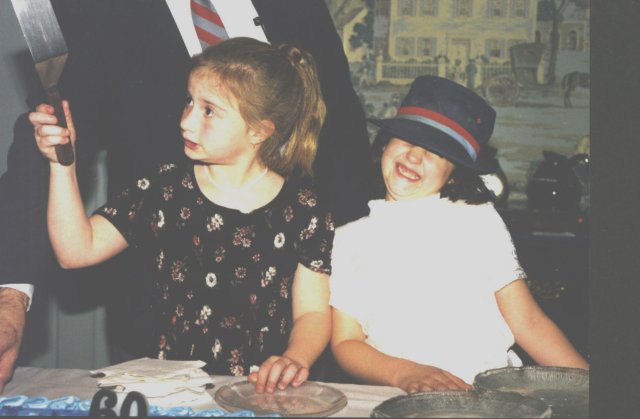 ---
Then everyone finally got to eat and listen to the supurb jazz stylings of Bernie Edwards, which included extended medleys of Billy Strayhorn, Henry Mancini, and Johnny Mandel tunes.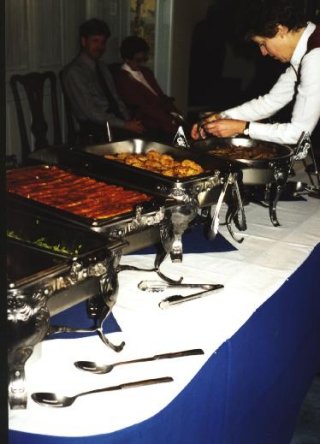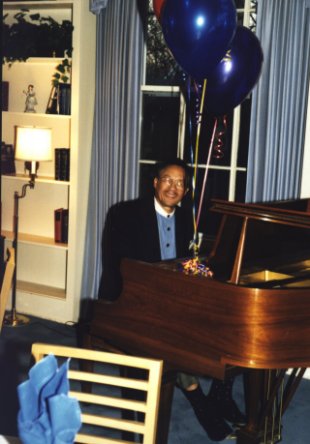 ---
And of course...presents. It's good to be the king.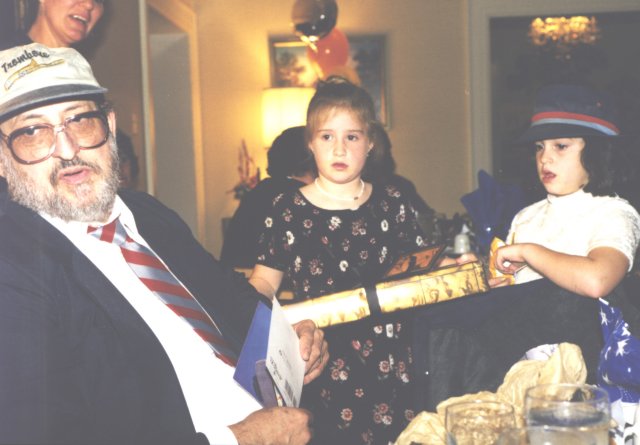 ---
GOTCHA !!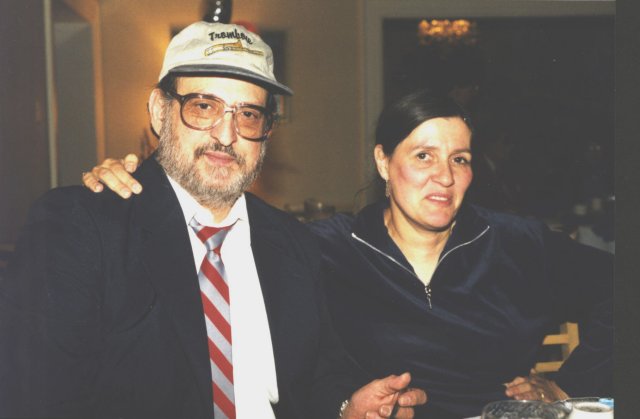 ---
Back