Ian Polster Brings a Classic of the
American Musical Theatre to Ukraine
by Stephen Siek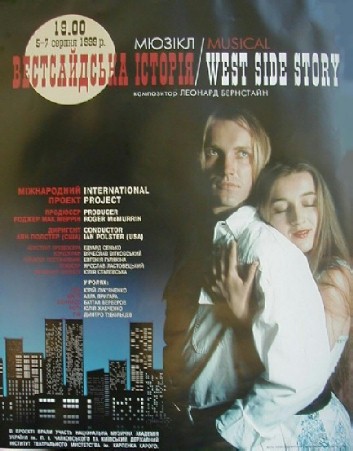 ---
A poster displayed throughout the city of Kyiv advertising the Ukrainian
premiere of Leonard Bernstein's West Side Story, conducted by Ian Polster.
---
IAN POLSTER, Associate Professor of Music, made history this past August when he conducted the Kyiv Symphony Orchestra and Chorus in the first Ukrainian performance of Leonard Bernstein and Stephen Sondheim's classic, West Side Story. Polster was invited to conduct the performances by his long-time acquaintance Roger McMurrin, conductor of the Kyiv Symphony Orchestra and Chorus, with whom he taught at Xenia High School in the early 1960s. Except for his self-confessed slowness at learning the Ukrainian language (which he coached with Wittenberg Associate Professor of Languages Lila Zaharkov), Polster is ideally suited to the task of bringing Bernstein's music to foreign audiences. A highly skilled composer and arranger, he once served as music director for a West Side Story production sponsored by the Springfield Summer Arts Festival, and in the 1970s he arranged a suite of dance music from the musical which has been performed all over the world—and was personally approved by Bernstein. "This is what my life has been about . . . the music of our time and culture." Observing that most Western music was previously banned in the former Soviet Union, Polster likened his role to that of a "music missionary." In addition to the satisfaction of bringing a high quality performance to fruition, he indicated two additional reasons for embarking on this assignment: one was to bring an American masterwork to a nation that had never heard it, and another was to prove that such a production could be profitable in a former socialist country.
To prepare for the performances, Polster began rehearsing with the orchestra in mid-July, with rehearsals scheduled from four to six hours each. "I actually survived a six-hour orchestra rehearsal," he said. McMurrin arranged to have Stephen Sondheim's elegant lyrics translated into Ukrainian, and at first some were concerned about how this transformation would impact Bernstein's powerful score. As Polster indicated, "Sondheim is such a craftsman with words" that he stood ready to make such musical adjustments as might have been necessary. But he was pleased to note that the translations were intelligent, preserving both the rhythm and intensity of the original words and of Bernstein's music. There was also concern for the singers and dancers, whose strict classical training had brought them little exposure to American jazz and dance. But they learned so quickly and adapted so beautifully that Polster soon acknowledged that they were creating an "explosive and exciting production," making them perhaps "one of the best casts West Side Story ever had."
The impending production generated intense publicity throughout this country of 51 million, and Kyiv (the former Kiev), a city of 2.6 million, sought its musical director for a spate of media interviews and features in magazines and newspapers. Polster noted that the premium musicians he conducted wanted to play so badly that they worked for less than $2 per day: "They have no unions; they have no organization, just desperation." Finally, after weeks of intense rehearsals, the production opened to a full house on the evening of August 5, and the audience went wild. "After the bows, they kept yelling and applauding for a good five minutes. Flowers began to flow all over the place. At one point, the place was chanting, in time, 'Pull-stah, Pull-stah,' so I had to climb out of the orchestra pit for a bow."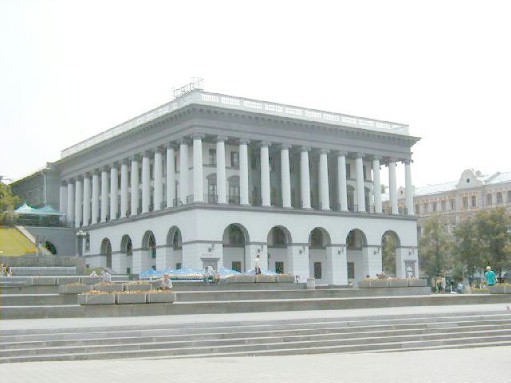 ---
The National Academy of Music in Kyiv, where Ian Polster conducted
the Ukrainian premiere of Leonard Bernstein's West Side Story
---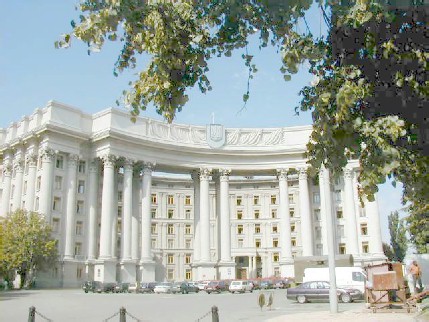 ---
"This building was the Presidium of the Communist Party. Now it's supposedly the center for culture of all nations. It is still a government building. Note that the hammer and sickle that used to be at the top of the arch has been covered by the new logo for Ukraine."
---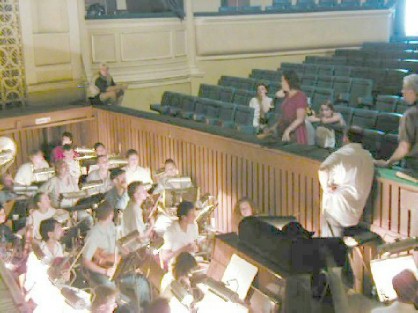 "I shouldn't complain, these are the finest musicians anyone would want to be associated with. But they are so traditionally trained (and unfortunately in mostly Russian literature or music pre-20th century) that they are not able to have the flexibility needed to perform American styled music. They also lack the rhythmic skills and experience to play the Latin music with ease. Take away the jazz and Latin rhythms from West Side Story and you are only left with a few film music underscores—which they don't understand either. The idea of mixing the American and Ukrainian cultures is difficult. They are opposites—some of it good, some of it absolutely maddening.
"They are very compartmentalized. After the drummer was continually playing his part wrong, I said to the asst. concertmaster (the only one who speaks English), 'Do they have percussion majors here at the Conservatory?' He said that it was another department. They have a string department, a woodwinds department, a piano department, a voice department, and a percussion department. There is no communication between departments—of anything—including government. I have asked, 'Doesn't "ENSEMBLE" mean everyone works together?' Here a string quartet would go off in four different directions and learn the music, then come together later to perform it.

"I have a very good trombone section here. But they can't afford mutes and this music calls for mutes often. There is only ONE music store in the whole Ukraine that sells accessories like mutes and things. They only have one trombone mute and it costs the equivalent of $40 USD. Fat chance! I know I could get an overnight shipment from any of the US music stores, and some would probably even donate the mutes. But it would cost another $40 in Ukrainian customs duties to get the package. So anyway, the next day we're playing through the muted passage and I hear this muted sound coming from the trombones. They stuck beer bottles in the bells of their horns....and it worked."
---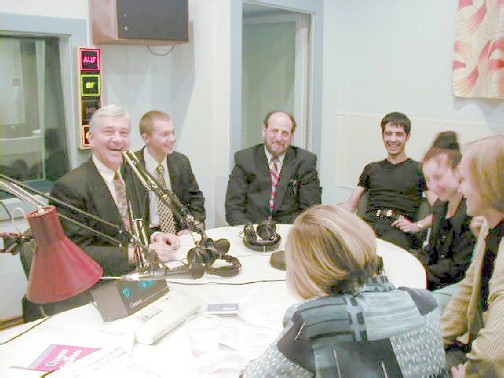 ---
A late-night radio interview two days before opening night. Roger McMurrin, the show's producer, is at left, seated next to an interpreter, Ian Polster, and cast members.
---
---
"This is a picture of the press conference we had in Roger's apartment. About 40 press in attendance. Sitting on my right is a professional interpreter. Seated to my left is Slava, the choreographer for the show. Standing is Roger, next to him is Helen [another interpreter and a well-known Ukrainian choral conductor], and seated is the drama director of the show ( I can neither pronounce her name nor spell it)."
---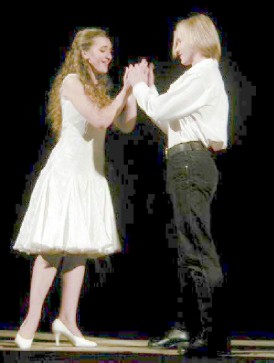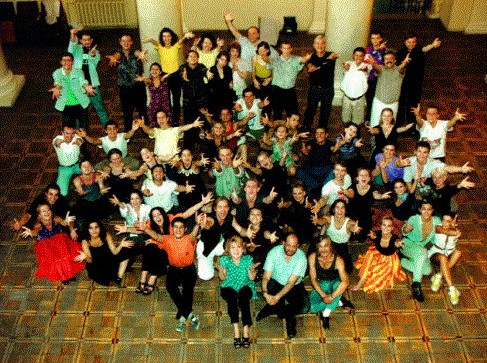 ---
Left: "Maria" and "Tony" meet for the first time. Right: The entire cast.
---
---
Polster and his wife, Carol, stand before the massive Great Gate of Kyiv.
---
Back